A PokerStars Review: Information on Free Chips, Cash and Tournaments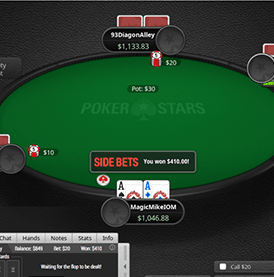 It's the home of poker, and the one place where champions are born. It's also the perfect spot for getting to experience amazing tournaments, exciting bonus offers and an innovative loyalty scheme.
That's what the operator of the wagering website believes. PokerStars was founded in 2001 and is licensed by the Malta Gaming Authority. It also relies on Gaming Labs to audit its games in order to ensure fair outcomes for its clients.
Pokerstars is also one of the best places in cyberspace where you will be able to watch some of the world's top champions pit their awesome skills against their opponents and even go up against them too if you feel up to the challenge.
And as can be expected with a top tier poker playing establishment, there are loads of pleasant surprises in wait for you as a registered client: free chips, free cash, exciting tournaments. We cover the most important of them right here in our PokerStars Review:
PokerStars Bonuses
Promotional offers are an excellent means of earning free chips, cash and tournament tickets. And here at PokerStars, you might just be eligible for a few particularly thrilling offers. These include the following:
PokerStars' welcome bonuses: The betting operator offers all newcomers a choice of two welcome offers. The first of them is a $30 cash offer and can be accessed by keying in the code THIRTY; a minimum deposit of $20 will be required in order for you to be eligible for it.
This offer is paid in installments of $5 over your first six days and will provide you with the opportunity to win over $35,000.
The second of them, a 100% match bonus of $600 may be activated by entering the code STARS600. You will have 60 days in which to make three qualifying deposits to unlock the promotion's total value.
Chests & Ladders: A perk of the PokerStars' loyalty program, participation in this promotion requires registration in the Stars' Rewards scheme and can be accessed in your Challenges window.
The monthly promotion will offer you the opportunity to win $20,000. During the board game, landing on a chest will mean good news since you will get to receive a prize for doing so.
Once you make it past the 49th square on the board, you'll get to receive a chest containing a unique reward for just you alone. It is worth noting that the value of your prize (just like those contained in all the other chests you come across) will depend on your level in the scheme.
Free chip promotions: When you first register as a new client, Pokerstars will also issue you with 35,000 free chips with which to kickstart your quest for poker superstardom. You will also be able to enjoy purchasing additional free chips at amazing prizes thanks to regular free chip sales.
Stars rewards: PokerStars' loyalty scheme is an excellent means for you to have your loyalty to the poker playing website rewarded and also enjoy bespoke offers.
All you have to do is accumulate points by playing for real money and watch as your progress bar fills up. Once it does, you will receive a chest containing exciting prizes including tournament tickets, cashback bonuses or any of the poker operator's rewards carefully selected to suit your playing style and preferences.
PokerStars' Tournaments
Sunday Million: With a prize of $1,000,000, the Sunday Million is the world's biggest tournament. In order to pit your wits against poker's finest, you will have the choice of paying $109 for a buy-in or of participating in a satellite tournament.
Saturday Micro: One of several exciting tournaments Pokerstars provides during weekends, this competition is an excellent choice for you if you happen to be new to poker and want to hone your skills. Additional advantages of the tournament include its guaranteed prize and low buy-in fees.
Saturday Duel: If you feel a bit more confident in your skills and love the thrill of taking on just one opponent, you'd enjoy the Saturday Duel which will see you go toe to toe with another poker enthusiast.
PokerStars' Playing Options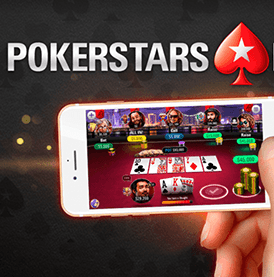 PokerStars provides a downloadable client with which you will be able to access its offerings from your desktop or laptop. And if your preferred device for playing poker is your smartphone or tablet you'll be able to download the appropriate app for either Android or iOS devices right from Pokerstars.
Doing so will place you in the position to enjoy innovative features such as Mobile Cashier with which you will be able to manage your wallet with the greatest convenience and the 'Play Now' button which will ensure that the most exciting games and competitions are merely a click away.
Conclusion
A choice of two welcome bonuses, 35,000 free chips for new clients; a loyalty scheme for returning fans and regular promotional offers mean you will be able to get right into the thick of the action once you register at PokerStars.
And with several exciting tournaments, you will never run out of opportunities to keep your skills sharp and possibly make it all the way to the very top and bag the win of a lifetime. These features made Pokerstars pretty enjoyable to review, and we believe that you are likely to find your visits just as enjoyable as well.
Main Menu
Reviews