Bet365 Poker Review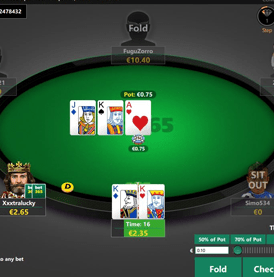 It's one of the biggest brands in virtual betting and was launched in modest surroundings in 2000 while its virtual version was made available in March 2001, less than a decade following the creation of the cyberbetting sector.
Since then, it has become an amazing spot for fans of virtual wagering who enjoy the thrill of gambling on sports events and provides a truly extensive range of them including basketball, cycling, e-sports, golf, horseracing and soccer, for example.
For fans who wish to enjoy the full online betting experience, the wagering operator also provides a casino, a live casino as well as a poker room.
Just how well does its poker room hold up against all its other competitors'? Is there a chance that you might actually win free chips to facilitate your game? Find out all you need to know in our Bet365 poker review.
Bet365 Poker Bonuses
The $365 welcome bonus: As a newcomer to the Bet365 poker room, you will be eligible for a $365 golden handshake (no free chips are provided with this offer). Key features of this reward include:
The absence of a playthrough requirement - that's right there is no multiple which will determine the total sum you'll need to wager before you have your winnings released to you.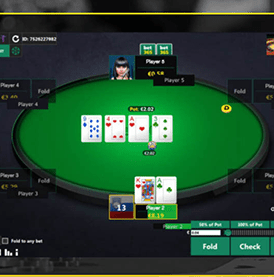 Release in installments - you will need to accumulate status points in batches of 25, 50, 100 and then 250 to have $2.50 released to you on each occasion. (You earn 10 status points for every $1 you pay to participate in a tournament.)
The ability of every game and variant to contribute towards redeeming your reward.
A validity period of 60 days.
A Twister ticket: This ticket with a value of $1 will be released when you partake in a twister tournament (no free chips are provided with this offer). Features of this promotion include:
A validity period of one week.
Valid for use in twister tournaments alone and no other kind.
Welcome prize wheel: Like the above twister ticket, you will need to participate in a twister tournament in order to get to enjoy a spin or more on the wheel. This promotion comes with the following features:
A validity period of seven days.
Direct payment of funds won to your account.
Restricted use of coins earned.
An exclusive loyalty scheme: As a poker player at this wagering website, you will get to experience exclusive rewards through this scheme which come with the following features:
Status points - As noted above, 10 of these points are earned per $1 paid in tournament fees. Status points also function as a basic unit which will enable you to measure your progress in the scheme in terms of loyalty steps.
Loyalty steps - Indicate your current stage of progression within a scheme and can be used to earn free coins.
Loyalty levels - Measured by the accumulation of status points and the completion of loyalty steps, loyalty levels provide access to more tournaments and extra perks when completed.
Loyalty tournaments - Participating in these competitions will provide you with the opportunity to win prizes which will increase in value the further you advance in the loyalty scheme.
Bet365 Poker Competitions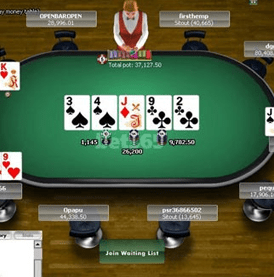 Age of the Gods: A twister sit and go tournament, this small yet super fast competition can be participated in for just $1 and comes with the opportunity for you to take part in four categories of jackpots with prizes of up to $100,000 available.
Premium steps: Another superfast competition, this tournament starts out with three players who each have 500 chips and consists of eight steps. It is actually possible for you to participate in one for a fee of $0.50 ($350 is the maximum buy in fee) and win a $800 prize.
Wild twister sit and gos: The fastest-paced competitions you will come across, games in this category will provide prices in the form of tickets to Sit and Go tournaments.
The value of these prizes will always be a multiple of your buy in (which can be as low as $0.50) with values of 2, 4, 10, 20, 40 and 100 available.
These tickets have a validity period of eight weeks following which you will no longer be able to use them.
Bet365 Poker Mobile Apps
If you are a fan who prefers to wager on the move, you will have the choice of downloading either an Android or iOS app depending on your device of choice.
Once you do, you'll have all the exclusive promotions, amazing gameplay and graphics and a thoroughly user-friendly experience at your fingertips. What's more, you will also be able to access some of the most highly sought after tables as well.
Conclusion
If you are in search of a poker room which can offer you a solid experience, Bet365 is certainly an excellent option.
Especially since it's not only highly reputable, but also provides exciting competitions, delightful bonuses, and a loyalty scheme for its most faithful clients. The fact that it also caters to fans of mobile wagering is also an added plus.
And while the establishment doesn't seem to be too fond of issuing free chips, Bet365 Poker Room provides loads of innovative means for you to win amazing perks, which in our opinion places it pretty close to the top of our list of the best poker rooms.
Main Menu
Reviews