A Brief GGPoker Review: Bonuses, Free Chips and Tournaments
This operator which was launched in 2018 and which operates under the auspices of the Isle of Man Gambling Supervision Commission, is one of the top virtual venues where betting fans can gather to hone their skills and participate in exciting competitions.
GGPoker is audited by BMM Testlabs and also provides a wide range of generous and innovative bonuses to reward loyal clients for making it their online casino of choice.
But how capable is the betting establishment at meeting the needs of poker fans? We cover all the key aspects of its poker room in our concise GGPoker review.
GGPoker Bonuses
Let's face it. One of the most exciting aspects for fans of wagering online are those promotions which promise free chips, cash and tournament tickets. Hence their occupying pride of place in this GGPoker review.
In keeping with its status as one of the very best poker betting websites, the wagering operator provides a varied selection of promotional offers to its clients. Examples of rewards you may be eligible for include:
The $600 welcome bonus: GGPoker offers first time visitors a 100% match bonus of up to $600.
It also provides a duration of 60 days for you to be able to claim the promotion in its entirety. (No free chips are provided with this offer.)
The $100 reward: Newcomers will also have the option of obtaining a maximum of $100 cash as well as free tickets.
It is worth noting that a minimum deposit of $20 is required for this offer just as for the $600 welcome promotion - no free chips come with this reward either.
The Fish Buffet scheme: Out of all the poker websites we got to review, we found GGPoker's loyalty scheme to be pretty unique.
Taking part in the loyalty programme will provide you with the opportunity to win loyalty points referred to as Fish Buffer points, for each wager you place on any poker or casino game.
As a registered client of GGPoker, you will also have the opportunity to be promoted through levels in the scheme.
These levels are as follows: Plankton, Goldfish, Shrimp, Crab, Octopus, Whale and Shark.
It is worth noting that each level is also divided into its own set of specific ranks.
Plankton (one) - Starting Level;
Goldfish (two) - Goldfish and Blackfish;
Crab and Octopus (three ranks each) - Bronze, Silver and Gold;
Octopus (four) - Bronze, Silver, Gold and Black Octopus;
Whale (five) - Bronze, Silver, Gold, Platinum and Black Whale;
Shark (six) - Bronze, Silver, Gold, Platinum, Diamond and Black Shark.
Additional perks GGPoker clients who participate in this scheme will be able to enjoy, include varying percentages of cashback depending on rank and level in the scheme.
As a beginner, you will be able to earn 15%. However, once you reach the highest level you will be able to earn 60%.
Fun fact: Levels which provide black rank options will enable you to opt for fixed weekly cashback rewards.
GGPoker Tournaments
Exciting competitions are the lifeblood of any reputable poker website and as can be seen in our GGPoker review, this operator is certainly not lacking in them. Examples of those you may be able to participate in include:
Freezouts: Competitions in this category may actually be considered to be the very opposite of rebuys although players all get to start out with the same number of chips. However, any player who uses all theirs up will be eliminated without having the option of rebuying any.
Guaranteed tournaments: These competitions are named for the fact that their prize pools never decrease in value even in the event of the buyins ending up being less than the set amount. On the other hand, their value actually gets to increase in the event of buyins exceeding the specified sum.
Rebuy tournaments: During competitions in this category, clients get to start out with the same number of chips. What's more, they will also have the option of buying more of them at set intervals during the game. These intervals will vary depending on the competition.
GGPoker Playing Options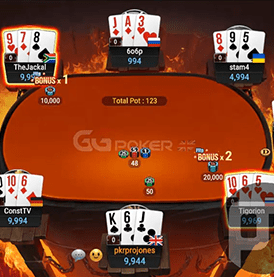 GGPoker provides a downloadable client which is suitable for desktop and mobile devices. Each category has been provided below with the minimum requirements:
Windows
OS - Windows 8;
Processor - 3GHz processor;
Memory - 2GB RAM;
Free disc space - 1GB;
Mac computers
OS - Windows 10.10;
Processor - 3GHz processor;
Memory - 2GB RAM;
Free disc space - 1GB;
Android
OS - 6.0.xx Marshmellow
Memory - 2GB RAM
Free disc space - 250MB
iPhone
Device version - iPhone 6S
Free disc space - 250MB
Conclusion
If you are on the lookout for a wagering operator which will be able to provide you with a solid experience, you are most likely to find all you need at GGPoker. Like several of the most sought after betting establishments, this gaming website not only provides an innovative loyalty scheme, but also provides generous bonuses as well.
GGPoker also provides a wide range of games and tournaments to ensure you will never experience a boring moment. And even though welcome offers with free chips would have been marvellous, we do feel it ticks all the boxes that count.
Main Menu
Reviews